One of the problems that I had after upgrading to the new Windows 10 was that my touchpad stopped working. If you are facing the same issue, here is what I did to solve this.
First, you need to download and install the latest version of ASUS Smart Gesture:
If you already have this version, then you may need to Repair the installation. Go to Settings -> Control panel -> Uninstall/Change program -> ASUS Smart Gesture -> Repair.
If everything is fine, you should see ASUS Touchpad in Device Manager.

Notes:
ASUS support suggests to download and reinstall the ATK driver first and then reinstall the Touchpad driver. Download ATK driver from here: ATK Package 1.0.0050 (32-bit) | ATK Package 1.0.0061 (64-bit)
If you have an ASUS T300LA and the multi-touch is not working, uninstall ASUS Smart Gesture and install V2.2.8 from here: 64-bit. Then, restart. Also, if you are having issues with an ASUS ZenBook UX32VD use V2.2.8.
Error messages:
If you get the message "Another version of this product is already installed…", you need to uninstall the old version and then install the new one.
If the installer throws the error "Source file not found: …Temp1_SmartGesture_Win10_64_VER406.zip\SETUP.CAB. Verify that the file exists and that you can access it.", extract the zip file and then run the setup.
If the installer throws the error "There is a problem with this Windows Installer package…" and then makes a rollback, I wrote the solution on this post.
NEW: I've made a list with all the download links for the latest versions of ASUS drivers and tools for Windows 10:
ELAN driver update overrides ASUS Smart Gesture
After executing the troubleshooter, select Hide updates and then check the update named: ELAN driver update for ELAN Input Device.
Finally, Windows Update will not override the ASUS Smart Gesture driver. You can check this by searching for new updates, the ELAN driver should not show up.
If you already have the ELAN driver installed and it is not listed on Hide updates, you need to uninstall this driver first (and maybe restart too).
Problems to uninstall ASUS Smart Gesture
If you are not able to uninstall an old version of ASUS Smart Gesture from the Control Panel, here are some ideas.
The first time I tried to install the new version of ASUS Smart Gesture I got the message "The specified account already exists". To solve it, I had to remove the old driver like this:
Open %SystemDrive%/ProgramData/SetupTPDriver/ in windows explorer
Execute SetupTPDriver.msi
Select Remove ASUS Smart Gesture
Another solution mentioned in forums is to use the Microsoft Program Install and Uninstall tool. They say that it takes a while, but it will walk you through the removal.
ASUS Smart Gesture settings
Use "Show hidden icons" to find touchpad settings. Click the arrow next to the notification area to show notification area icons. There you will find ASUS Smart Gesture icon. Then, just double-click it. Get more help here.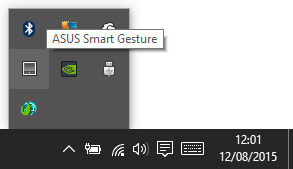 If you see this icon

in the notification area, press fn+F9 to enable or disable the touchpad.